Speciffix Solutions Limited
Auckland +64 9 889 3444 Waikato +64 7 929 4820 Email This email address is being protected from spambots. You need JavaScript enabled to view it.
We implement and support MYOB Enterprise level business management and accounting systems for self or cloud hosting.
We also implement Inventogo for the smaller business that wants better inventory control than offered by other entry level systems.

MYOB Advanced Business - Enterprise Level - Cloud Hosted
MYOB Advanced gives you a fully customisable, scalable Software as a Service (SAAS) solution for a single monthly subscription.
A true Cloud-based system designed to help businesses be more flexible by working online. MYOB has partnered with Amazon Web Services (AWS) a best-in-class high availability data storage centre.  Now you can access your information from any device, any browser, any location - all you need is an Internet connection.

MYOB EXO Business - Enterprise Level - Self Hosted
A fully integrated financial and business management system specifically for medium sized and larger businesses.
Modules: Finance, CRM, Job and Project Costing, Accountant's Assistant, Point of Sale, Fixed Assets, Serviceable Units, API, OnTheGo Mobile Application and Intercompany
Many companies have specialist or industry specific requirements. MYOB EXO's open design means we can customise the product to meet your needs.

MYOB Exo Employer Services
An enterprise level Payroll and HR system
Modules: Payroll, MyStaff Info, Employee Information (HR), Time and Attendance, Timeclock, Timesheet, Heath and Safety
MYOB are the Australasian leaders in providing payroll solutions. MYOB Exo Employer Services is designed for medium and larger sized businesses.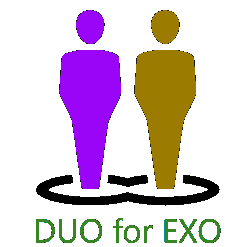 DUO - Extend Your EXO Functionality
DUO for EXO is similar in visual design to MYOB EXO Business and offers functionality to complement the standard MYOB EXO Business suite. 
Modules: Essentials, Warehouse, Purchasing, Sales & Quoting, Production, Admin, Help Desk

Nectar - Mobile Solution for EXO
Nectar is an alternative to MYOB EXO OnTheGo (Apple OS7+ only) and which runs on other mobile platforms such as Android.

Inventogo - Smaller Business - Cloud Hosted
All-in-one cloud solution for importing, exporting, inventory, sales and distribution.
Web Trade, Sales, Buyer, Shipping, Treasury

Our Services
Our staff foster a personal relationship with, and understanding of our customers. Its about people and their business needs. Technology is just a tool that is part of a total solution. What is important is understanding your business environment and applying our experience to provide you the best outcome.