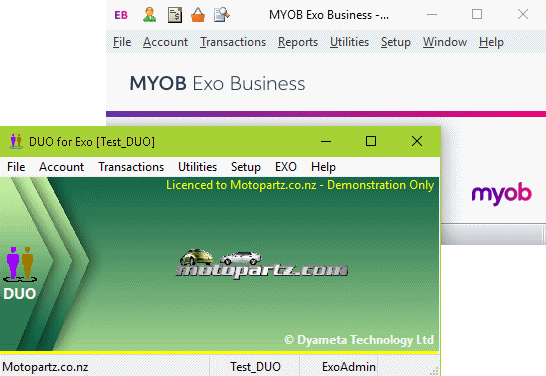 DUO for EXO is similar in visual design to MYOB EXO Business and offers functionality to complement the standard MYOB EXO Business products.

 

This is the framework of the DUO for EXO product (common to all other modules).

It supports Entities (data sources), Forms (dashboard hosts starting with a search scree), Widgets (a more powerful form of EXO widgets).

Almost everything is driven from parameters in the database allowing customisation and extensibility. No code replication and full inheritance means that when a feature is available then it is available everywhere.

 

Warehouse processing using bar-code scanning and pick lists (sales orders, inwards goods,inter-location).

Manifest module for recording consignment note details

 

DUO Purchasing

More flexible Forecast purchasing creating both Purchase Orders and Stock Transfer Requests

 

DUO Sales & Quoting

Things for your sales team (Quote Revisions, Stock Loans)

 

DUO Production

Scanning for production (Works Orders)

 

 

DUO Help Desk

Support Desk Ticketing System
For further information on what DUO for EXO can do for you please contact us.